TM R&D wins Global Business Outlook Awards 2021 for its innovation, CAMELIA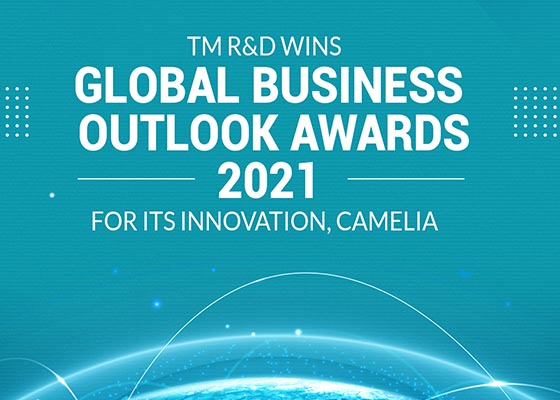 Telekom Research & Development Sdn Bhd (TM R&D), the innovation arm of Telekom Malaysia Berhad (TM) recently bagged the Most Innovative Digital Infrastructure Services Provider in Malaysia for its solution called CAMELIA at the UK-based Global Business Outlook Awards 2021.
The award was conferred to TM R&D in recognition of its achievement for developing CAMELIA, which is set to become one of the digital transformation enablers for network operators to handle end-to-end processes for service assurance in TM.
Commenting on the achievement, Dr. Sharlene Thiagarajah, Chief Executive Officer, TM R&D said, "This is indeed a proud moment for us. Winning this award at the global front illustrates our continued commitment to develop solutions together with TM Group as part of our collaborative efforts to ensure the successful adoption of Artificial Intelligence (AI) and digital innovations amongst our stakeholders."
"Thank you to the Network Operations, Customer Experience and Information Technology & Digital teams in TM for their continuous support and for incorporating CAMELIA into their operations which we believe will ultimately lead to an elevated customer experience. This recognition gives us the boost and drives us to explore more innovations for TM Group to serve a more digital society, business, industry and Government, towards accelerating Digital Malaysia," she added.
CAMELIA is an intelligent analytical platform that can provide the network's health condition, fault diagnostics and localisation, and can predict potential service as well as line failure up to 30 days in advance.
In addition, CAMELIA provides early warning alerts that shall help to transform processors from a reactive based troubleshooting process to a proactive one with the goal of improved quality of service and faster incident resolution. As an enabler, CAMELIA integrates with other operating systems to monitor all subscriber lines 24 hours and provide early detection. Early filtration can isolate the problem whether it is at the physical network element layer or a service layer.
Global Business Outlook Awards recognises and rewards excellence in businesses around the world. It is designed to facilitate the outstanding work of businesses and business leaders across a myriad of industries – assessing their work in terms of performance, innovation and drive to create the industry value.
This is the 2nd international award received by TM R&D this year for its work in AI and digital ecosystems development supporting the telco industry, which is a step forward in achieving its mission to build a smarter digital ecosystem.
Established in 2001, TM R&D is the innovation arm for TM Group focusing on creating smarter ecosystems to make business and life easier for a better Malaysia. TM R&D's solutions are clustered around four (4) pillars namely Intelligent Platforms, Data Brokerage, Connectivity/Tools and IR4.0/Digital Solutions. Growing from strength to strength since 2016, TM R&D has won multiple global awards and generated more than 2,800 Intellectual Property Rights (IPRs) and 1,400 digital assets to date. TM R&D's innovations are all developed in-house and cut across multiple verticals such as Utilities, Retail, Agriculture, Healthcare and Education with safety and productivity as the top priority.
For more information about TM R&D and its innovations, visit www.tmrnd.com.my or email your inquiry to business@tmrnd.com.my or follow them on LinkedIn (TM Research & Development) for more news and updates.
This news release has also been published in the following media:
Business Today "TM R&D Wins Global Business Outlook Awards For CAMELIA"
Bernama "TM R&D wins Most Innovative Infrastructure Services Provider at UK award"
Bernama "TM R&D menang Anugerah Penyedia Perkhidmatan Infrastruktur Digital Paling Inovatif"
Harian Metro "TM R&D paling inovatif"
Malay.News "TM R&D paling inovatif"
Malaysia Sejatera : Ekonomi "TM R&D menang Anugerah Penyedia Perkhidmatan Infrastruktur Digital" Paling Inovatif