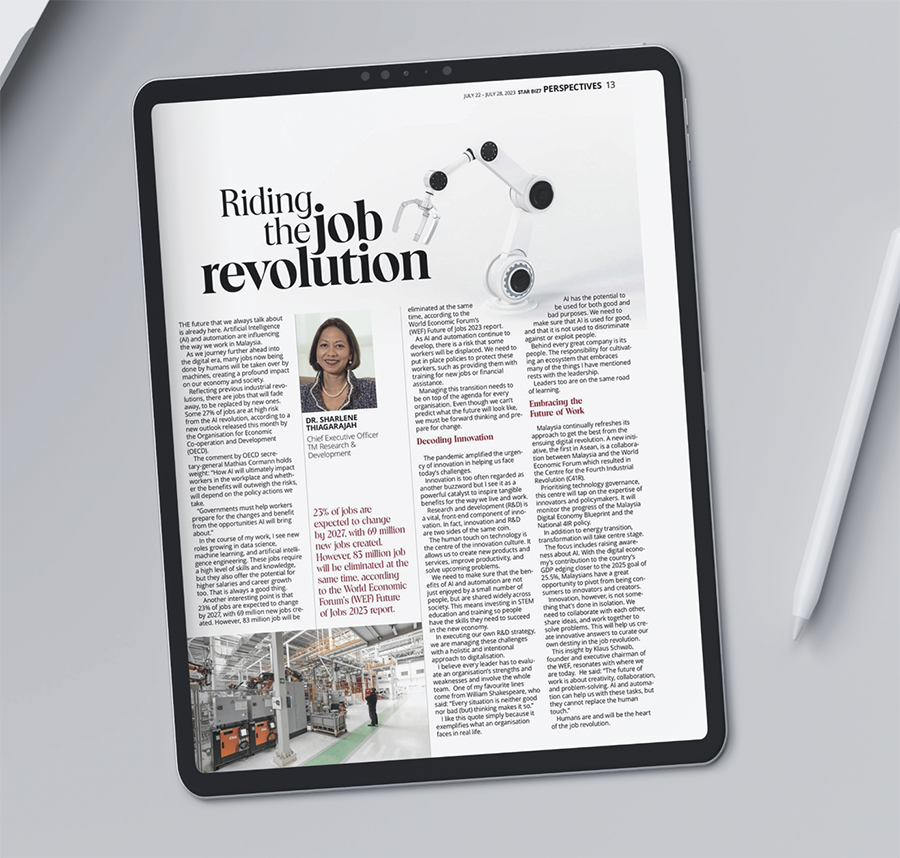 THE future that we always talk about is already here. Artificial Intelligence (AI) and automation are influencing the way we work in Malaysia.
As we journey further ahead into the digital era, many jobs now being done by humans will be taken over by machines, creating a profound impact on our economy and society.
Reflecting previous industrial revolutions, there are jobs that will fade away, to be replaced by new ones. Some 27% of jobs are at high risk from the AI revolution, according to a new outlook released this month by the Organisation for Economic Co-operation and Development (OECD).
The comment by OECD secretary-general Mathias Cormann holds weight: "How AI will ultimately impact workers in the workplace and whether the benefits will outweigh the risks, will depend on the policy actions we take.
"Governments must help workers prepare for the changes and benefit from the opportunities AI will bring about."
In the course of my work, I see new roles growing in data science, machine learning, and artificial intelligence engineering. These jobs require a high level of skills and knowledge, but they also offer the potential for higher salaries and career growth too. That is always a good thing.
Another interesting point is that 23% of jobs are expected to change by 2027, with 69 million new jobs created. However, 83 million jobs will be eliminated at the same time, according to the World Economic Forum's (WEF) Future of Jobs 2023 report.
As AI and automation continue to develop, there is a risk that some workers will be displaced. We need to put in place policies to protect these workers, such as providing them with training for new jobs of financial assistance.
Managing this transition needs to be on top of the agenda for every organisation. Even though we can't predict what the future will look like, we must be forward thinking and prepare for change.
Decoding Innovation
The pandemic amplified the urgency of innovation in helping us face today's challenges.
Innovation is too often regarded as another buzzword but I see it as a powerful catalyst to inspire tangible benefits for the way we live and work.
Research and development (R&D) is a vital, front-end component of innovation. In fact, innovation and R&D are two sides of the same coin.
The human touch on technology is the centre of an innovation culture. It allows us to create new products and services, improve productivity, and solve upcoming problems.
We need to make sure that the benefits of AI and automation are not just enjoyed by a small number of people, but are shared widely across society. This means investing in STEM education and training so people have the skills they need to succeed in the new economy.
In executing our own R&D strategy, we are managing these challenges with a holistic and intentional approach to digitalisation.
I believe every leader has to evaluate an organisation's strengths and weaknesses and involve the whole team.  One of my favourite lines come from William Shakespeare, who said: "Every situation is neither good nor bad (but) thinking makes it so."
I like this quote simply because it exemplifies what an organisation faces in real life.
AI has the potential to be used for both good and bad purposes. We need to make sure that AI is used for good, and that it is not used to discriminate against or exploit people.
Behind every great company is its people. The responsibility for cultivating an ecosystem that embraces many of the things I have mentioned rests with the leadership.
Leaders too are on the same road of learning.
Embracing the Future of Work
Malaysia continually refreshes its approach to get the best from the ensuing digital revolution. A new initiative, the first in Asean, is a collaboration between Malaysia and the World Economic Forum which resulted in the Centre for the Fourth Industrial Revolution (C41R).
Prioritising technology governance, this centre will tap on the expertise of innovators and policymakers. It will monitor the progress of the Malaysia Digital Economy Blueprint and the National 4IR policy.
In addition to energy transition, transformation will take centre stage.
The focus includes raising awareness about AI. With the digital economy's contribution to the country's GDP edging closer to the 2025 goal of 25.5%, Malaysians have a great opportunity to pivot from being consumers to innovators and creators
Innovation, however, is not something that's done in isolation. We need to collaborate with each other, share ideas, and work together to solve problems. This will help us create innovative answers to curate our own destiny in the job revolution.
This insight by Klaus Schwab, founder and executive chairman of the WEF, resonates with where we are today. He said: "The future of work is about creativity, collaboration, and problem-solving. AI and automation can help us with these tasks, but they cannot replace the human touch."
Humans are and will be the heart of the job revolution.
---
This article was first published in the Star Biz7, Issue 2 – The paltry returns of Malaysian unit trusts
To access the PDF version, Click Here
To read the full Star Biz7 digital magazine, Click Here